a memoir of brain and mind
UNLIKE THE HEART:
A MEMOIR OF BRAIN AND MIND
'Unlike the heart … a brain cannot be understood as a static organ. It changes with its history and with every present moment.'
After the birth of her first child, Nicola Redhouse experiences an unrelenting anxiety that quickly overwhelms her. Her immense love for her child can't protect her from the dread that prevents her leaving the house, opening the mail, eating. Nor, it seems, can the psychoanalytic thinking she has absorbed through her family and her many years of therapy.
In an attempt to understand the source of her panic, Nicola starts to thread together what she knows about herself and her family with explorations of the human mind in philosophy, science and literature. What role do genetics play in postnatal anxiety? Do the biological changes of motherhood offer a complete explanation? Is the Freudian idea of the mind outdated? Can more recent combined theories from neuroscientists and psychoanalysts provide the answers? How might we be able to know ourselves through our genes, our biology, our family stories and our own ever-unfolding narratives?
In this compelling and insightful memoir, Nicola blends her personal experiences with the historical progression of psychoanalysis. In the end, much like in analysis, it is the careful act of narrative construction that yields the answers.
Edited by Maria Katsonis & Lee Kofman
Good daughters hold their tongues, obey their elders and let their families determine their destiny. Rebellious daughters are just the opposite.

In Rebellious Daughters, some of Australia's most talented female writers share intimate and touching stories of rebellion and independence as they defy the expectations of parents and society to find their place in the world.

Powerful, funny and poignant, these stories explore everything from getting caught in seedy nightclubs to lifelong family conflicts and marrying too young. Beautifully written, profoundly honest and always relatable, every story is a unique retelling that celebrates the rebellious daughter within us all.

Not every woman is a mother, grandmother, aunty or sister – but all women are daughters.

Rebellious Daughters contributors: Jane Caro, Jamila Rizvi, Susan Wyndham, Rebecca Starford, Marion Halligan, Amra Pajalic, Jo Case, Leah Kaminsky, Michelle Law, Caroline Baum, Rochelle Siemienowicz, Nicola Redhouse, Krissy Kneen, Silvia Kwon and Eliza-Jane Henry-Jones.
Inspired by her father's work as a psychotherapist, Nicola Redhouse explores where we sit today with Freud's theories of dreaming, and the eternally fascinating questions of why we dream and what our dreams could mean.
Amsterdam. Paris. The suburbs. A woman comes to terms with a splintering world, and draws ever unknowingly away from recognising her own capacity for hate.
'This is who you are. You'll see.'
'This is Who You Are. You'll See.'
Also published in Meanjin Vol 73, 2, 2014. Available to read here:
https://meanjin.com.au/fiction/this-is-who-you-are-youll-see/
In The Best Australian Stories 2014, Patrick White Award–winning author Amanda Lohrey selects the outstanding short fiction of the year. Sometimes fantastical, sometimes raw, and always a 'shot of adrenaline to the mind and heart', this collection features exciting new voices alongside the established and admired …Imaginative, remarkable, intimate – this unmissable anthology celebrates the art of consummate storytelling.
Julienne Van Loon • Shaun Prescott • Lucy Neave • Anthony Panegyres • Nicola Redhouse • Edwina Shaw • Claire Corbett • Fiona Place • Kate Elkington • Arabella Edge • Claire Aman • Angela Meyer • J.Y.L. Koh • Rebekah Clarkson • Ryan O'Neill • Mark Smith • Anna Krien • David Brooks • Leah Swann • Kirsten Tranter • Lisa Jacobson • Melanie Joosten
In The Best Australian Stories 2015, Amanda Lohrey, winner of the Patrick White Award and author of the acclaimed novel A Short History of Richard Kline, curates twenty pieces of exceptional short fiction. Elegant, accomplished and evocative, these short stories move, delight and inspire.
Goldie Goldbloom • John A Scott • Claire Corbett • Cate Kennedy • Melissa Beit • Colin Oehring • Gay Lynch • Eleanor Limprecht • Julie Koh • Jo Lennan • Omar Musa • Ryan O'Neill • Sarah Klenbort • Jo Case • Balli Kaur Jaswal • Jennifer Down • Nick Couldwell • Nicola Redhouse • Annette Trevitt • Mark Smith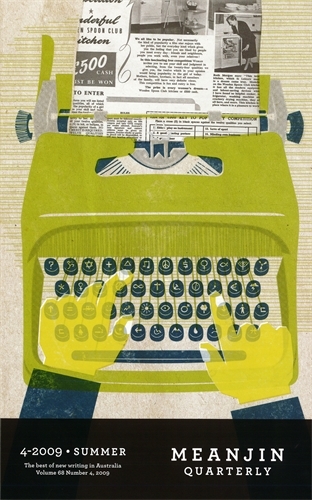 A woman is jolted into recalling the painful family schism that took place during her teenage years when she befriended a disturbed older woman.
A newly married woman unpacks into her new house a container of boxes sent by her mother, and is faced with thinking about the ways in which she has grown up and the ways in which she has not.